Would you like to get more from networking?
Watch our free video with our Ten Top Tips for Building Your Professional Network
"The single biggest problem with communication is the illusion that it has taken place."
George Bernard Shaw
"The key to being a good business leader is how good you are with people. It's your people skills that will set you apart."
Richard Branson
We at Management Advantage agree with both Shaw and Branson. That's why we have devised a series of workshops and masterclasses that tackle many of the 'soft', interpersonal skills that are essential to success in business and in our professional lives.
Explore our range of workshops below to find out how we can help.
READ OUR BOOK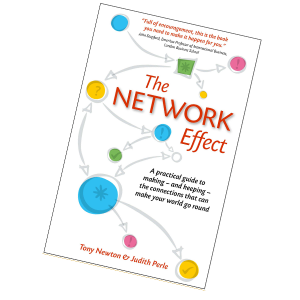 A guide to making – and keeping – the connections that make your, our and everyone else's world go round.
The book walks you through everything you need to know about connecting with other people.
Judith and Tony's goal in the book is to get away from the manipulative 'working a room' concept of networking. Instead, they use the results of research into human interactions coupled with real case studies to justify the hints, tips and suggestions they propose.