SIX DEGREES OF SEPARATION
The art and science of effective professional networking
Full or half day workshop
NETWORKING OPENS DOORS
Professional networking is a key door opener to new possibilities and new opportunities, both personal and professional. Yet many of us find the process daunting and difficult – and if we find something difficult, we tend to avoid it!
You may know who you want to meet and why…
You may know where and when you want to meet them and what you hope to gain by doing so…
Where so many of us fall down is on the 'how'.
WHAT RESEARCH TELLS US

Research shows that building a supportive network plays a vital role in career progression, business development, team building, entrepreneurial success, and general business leadership.

It also shows that the skills needed to network effectively are also skills which can be codified, taught and put into practice with immediate effect – and that's where this workshop can help.
FOR BUSINESS SCHOOLS & UNIVERSITIES
We offer a bespoke workshop which focuses on the job search. Responding to job ads, talking to recruiters and writing 'on spec' are all necessary but not sufficient elements of the jobseeker's toolkit.
In today's challenging job market, students need to know how to be visible, memorable and stay 'front of mind' with decision makers. In other words, they need to know how to network effectively.
We also offer a workshop tailored to meet the needs of alumni relations departments, keen to both encourage alumni to stay in touch and equip them with the skills to do so.
The 'Six Degrees' workshop is designed to be modular, flexible and above all to have practical application and impact on participants' professional lives. Our approach to professional networking is rooted in four firm beliefs:
A smattering of theory provides a solid foundation for what we actually do. So the workshop introduces key concepts in current network theory.
Research shows that everyone can become a confident networker – all it takes is the right approach and plenty of practice. So the emphasis is on 'learning by doing'. There is ample opportunity for 'role play' to try out new techniques and approaches in a safe, supportive environment, and to discuss and resolve any specific issues participants may face when creating and getting the best from networking opportunities.
Networking for long-term benefit involves more than social media – so although we touch on LinkedIn, Twitter and Facebook, the unashamed focus is on the actual process of meeting people and building relationships.
Changing attitudes is key to success. So we strive to demonstrate that reaching out in order to build a supportive network is a sign of strength rather than weakness.
Anyone who needs to:
Improve their influencing skills
Find a job
Break down internal silos
Enhance their personal profile and visibility
Gain sales
Stay 'in the know' about what's happening externally and internally
Canvass support for new projects or initiatives
Raise finance
Find their feet quickly in a new role
Develop, maintain and grow client relationships
A typical workshop covers:
How networks really work – harnessing the power of your network
Making a good impression & getting the best from events and meetings
Creating rapport and building relationships
The importance of effective follow-up
Networking for long term benefit
After the session participants will:
Understand how networks really work
Recognise the importance of networking to their professional life
View networking more positively
Have added lots of practical tips and tricks to their personal 'toolkit'
Feel more comfortable meeting people at events of all kinds
Know how to stay in touch with contacts and develop long-term relationships
Be better equipped to find their feet quickly in a new role
FOR  BUSINESS SCHOOLS & UNIVERSITIES
FOR CAREERS DEPARTMENTS
The impending job hunt is very much on the mind of students, programme directors and careers advisors. Responding to job ads, talking to recruiters and writing to potential employers 'on spec' are all necessary elements of the jobseeker's toolkit – but they aren't sufficient in themselves. With research showing that up to 75% of jobs are never advertised, it is important in today's challenging job market that students know how to be visible, memorable and stay 'front of mind' with decision makers. In other words, they need to know how to network effectively.
Creative job hunting is about finding the right person to speak to; it's about nurturing and maintaining relationships; it's about warming up cold calls; it's about meeting people and finding out what really makes them tick. And it's about recognising that giving is often better than getting.
FOR ALUMNI RELATIONS
Alumni are undoubtedly a crucial resource for any university, school or department. Yet helping them stay in touch both with the institution and with each other is no easy task.
Providing databases, events, forums are all important…but possibly not sufficient, if your audience doesn't really understand (a) the benefits to them of staying in touch and (b) how to actually do it.
READ OUR BOOK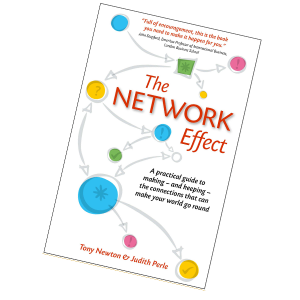 A guide to making – and keeping – the connections that make your, our and everyone else's world go round.
The book walks you through everything you need to know about connecting with other people.
Judith and Tony's goal in the book is to get away from the manipulative 'working a room' concept of networking. Instead, they use the results of research into human interactions coupled with real case studies to justify the hints, tips and suggestions they propose.