SELECTED TESTIMONIALS
We certainly don't get it right all the time, every time, for everyone… but here are some comments about our workshops and masterclasses.
The masterclass was both useful and enjoyable.
Thu Phan
A brilliant session!!! It was very useful both for work and personal life. I learned loads.
Elvina Rumjantsew
Many thanks for an excellent session: I came away thoroughly enthused and have already put some techniques into practice at a wedding I attended at the weekend.
Phil Ion
Not only did Judith make the subject matter lively and entertaining, she had the skill of presenting the human slant to the art of networking. Thoroughly enjoyable and highly recommended.
Angela Hector
A fantastic presentation.
Sanjay Gandhi
A great workshop.
Maj. Gen. Peter Fox
Exactly the kind of inspiration and practical advice I was looking for to get my networking skills delivering for me.
K McLuskie
Thank you so much for such an excellent, informative and helpful session. I am already starting to put my new found thinking into action and can't wait for the results.
Dr Patricia Livsey
A graduate-level seminar on the art of networking that gives you the ways and means – and confidence – to build and sustain a social and professional network. What's more, this course… entirely de-mystifies and de-stigmatises the subject. …This isn't a about how to be a cocktail party sycophant and collect lots of business cards. It's about a proven method for enriching your life and the lives of others.
Jeremy Hildreth
Judith presents an excellent framework not only for understanding the inherent strength of one's existing network, but also the tools to make it more powerful.
George Ajjan
Judith is an outstanding lecturer and handles a room of resistant and defensive trainees with fluency and charm – she makes difficult concepts clear and manageable.
Shona Kelly
All attendees were delighted with your intervention. It is clear that your sessions were a real eye opener for many not only on the importance of networking, but also on the benefits of proactively activating their contact networks."
Nicolas Hans
READ OUR BOOK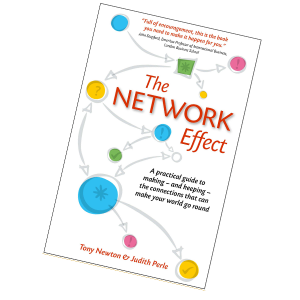 A guide to making – and keeping – the connections that make your, our and everyone else's world go round.
The book walks you through everything you need to know about connecting with other people.
Judith and Tony's goal in the book is to get away from the manipulative 'working a room' concept of networking. Instead, they use the results of research into human interactions coupled with real case studies to justify the hints, tips and suggestions they propose.