IT'S NOT WHAT YOU DO, IT'S THE WAY THAT YOU DO IT
Non verbal communication in action
With so much communication being non-verbal, how we do and say things is at least as important as the actual words we use. The best managers, negotiators, networkers, presenters and salespeople make intuitive use of non-verbal communication (body language).

Understanding the fundamentals of body language enhances our ability to influence others, understand what's going on behind the façade, and 'read' people's real intentions, motivations and concerns. This workshop unravels some essential tools and presents them in a form which everyone can use to their advantage.
Anyone who wants to:
Persuade and influence
Get on better with colleagues
Create the right impression
Make new contacts
Negotiate effectively
Stay 'in the know' about what's happening externally and internally
Canvass support for new projects or initiatives
Raise finance
Find their feet quickly in a new role
Develop, maintain and grow client relationships
A typical workshop covers:
The non-verbal vocabulary: appearance, touch, facial expression, eyes, voice, posture and gesture, space and time
Putting the package together: lies, white lies and insincerities;how to tell in someone is interested,
bored or indifferent
The non-verbal structure of power and influence
Real life scenarios and role play
After the session participants will:
Have a range of techniques for interpreting non-verbal cues
Ensure that the signals they give out are appropriate and really do match their intended effect
Access these tools to enhance their influencing skills
Be better able to understand what's going on behind the facade, and 'read' people's real intentions, movitations and concerns
READ OUR BOOK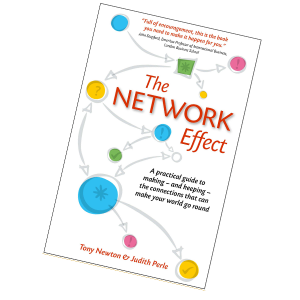 A guide to making – and keeping – the connections that make your, our and everyone else's world go round.
The book walks you through everything you need to know about connecting with other people.
Judith and Tony's goal in the book is to get away from the manipulative 'working a room' concept of networking. Instead, they use the results of research into human interactions coupled with real case studies to justify the hints, tips and suggestions they propose.