THE SIX DEGREES OF SEPARATION WORKSHOP
Our 'Six Degrees' workshop is designed to be modular, flexible and above all to have practical application and impact on your business life.
The impending job hunt is very much on the mind of students, programme directors and careers advisors. But you can't simply rely on the the School's contacts, on job ads or on search firms.
Doing a good interview and writing an impressive cv are important but not sufficient. Creative job hunting is about finding the right person to speak to; it's about getting good information and advice; it's about making yourself visible and memorable; it's about meeting people and doing something productive with that contact … it's about creating rapport.
And it doesn't stop there. Having found your next job, do you realise that consistent, confident and effective networking is key to your future success? Research shows that networking plays a vital role in post-MBA career progression, business development, team building, entrepreneurial success, and general business leadership.
A typical workshop covers the following topics:

How networks really work – harnessing the power of your network
Making a good impression & getting the best from events and meetings
Creating rapport and building relationships
The importance of effective follow-up
Contact management essentials
Networking for long term benefit
Setting goals and making it happen
At the end of the session participants will:

Understand the importance of networking for job search and their professional life
View networking as a positive and enjoyable activity
Have added lots of practical tips and tricks to their personal 'toolkit'
Feel more comfortable meeting people at events of all kinds
Know how to stay in touch with contacts and develop long-term relationships
READ OUR BOOK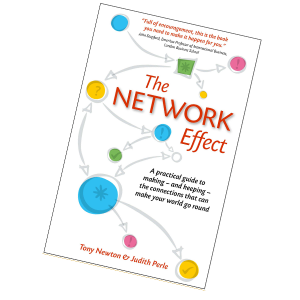 A guide to making – and keeping – the connections that make your, our and everyone else's world go round.
The book walks you through everything you need to know about connecting with other people.
Judith and Tony's goal in the book is to get away from the manipulative 'working a room' concept of networking. Instead, they use the results of research into human interactions coupled with real case studies to justify the hints, tips and suggestions they propose.