We're here to help people who want to:
BOOST
THEIR
LEADERSHIP
AND
INFLUENCING
SKILLS
RAISE
THEIR
PERSONAL
PROFILE
HOW DO YOU STAND OUT?
Many people pride themselves on having the hard skills they need to 'get the job done', but so often these
technical skills are actually only 'order qualifiers'. They get you through the door, but everyone else standing in line can also demonstrate those same skills.
SOFT SKILLS WIN BUSINESS
The truth is that business is often actually won and lost, and careers are made, through the successful application of the 'softer' interpersonal skills that can easily get overlooked in the cut and thrust of our professional lives.

UNDERSTANDING COMMUNICATION
An understanding of the key role that communication plays in our lives at every level is essential to getting things done effectively and successfully managing (or being managed by) others.

Teaching soft skills is exactly what we at Management Advantage do with a variety of inter-related workshops and masterclasses.
Our client list includes companies large and small, business schools and universities in the UK and overseas, outplacement specialists, alumni and membership organisations, and not-for-profits. We also regularly speak at conferences and networking events. So we're experienced at working with large and small groups of managers (both senior and not-so-senior), students, academics and professionals in a very wide variety of sectors.
JUDITH PERLE
---
Judith Perle co-founded Management Advantage after completing the Sloan Masters programme at London Business School. During her time there one of the key concepts on the Operations Management course was that of 'order qualifiers' versus 'order winners': the difference between the things that get you, your product, or your service onto the pitch list, and the ones that actually get you the business.
Judith brings to her training work a wealth of experience in business communication gained over a career in publishing, branding, marketing and new business development. She was Brand Development Director for illustrated publisher Dorling Kindersley, and Brand Liaison Director for the Superbrands organisation. She also has extensive experience publishing books, magazines and partworks and has created, edited and managed consumer publications on subjects ranging from gardening to interior design. She has been involved in publishing start-ups and negotiated intellectual property licensing rights with many global publishers, including household names such as Reader's Digest, Time Life Books and HarperCollins.
TONY NEWTON
---
Tony combines a life sciences background with a Masters in Business Management from London Business School and has held senior corporate communications positions within FTSE 250 and Nasdaq 100 companies, with responsibilities covering the entire corporate communications and investor relations spectrum.
Tony's science, medicine and technology writing has appeared in The Times, The Independent and numerous lay and specialist publications. He has also broadcast for the BBC and written extensively for the web. Tony's management training role meshes with corporate communications and copy writing activities for a number of medical device and pharma companies.
READ OUR BOOK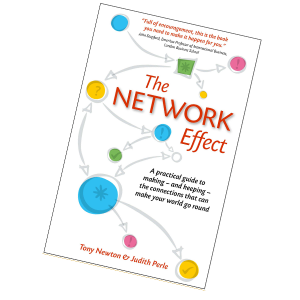 A guide to making – and keeping – the connections that make your, our and everyone else's world go round.
The book walks you through everything you need to know about connecting with other people.
Judith and Tony's goal in the book is to get away from the manipulative 'working a room' concept of networking. Instead, they use the results of research into human interactions coupled with real case studies to justify the hints, tips and suggestions they propose.