Tailored for Universities and Business Schools
Top business schools and universities are increasingly recognising the importance of interpersonal skills to the job search and career success. In the footsteps of Goleman's seminal book Emotional Intelligence, studies have shown that interpersonal skills are at least as important determinants of success as 'hard skills' such as knowledge, information and intelligence.
Research into MBA recruitment by TopMBA has demonstrated that while soft skills are highly valued by employers, recruiters consistently feel that students underperform in these areas. Specifically, the gap between what employers want and what they get is highest for interpersonal and communication skills (followed closely by leadership skills and strategic thinking).
And finally, alumni are a crucial resource for any institution. Yet helping them stay in touch both with the organisation and with each other is no easy task. Providing databases, events and forums are undoubtedly important, but possibly not sufficient if alumni don't fully understand either the benefits to them of staying in touch and how to actually do it.
Why choose us?
We have over a decade's experience helping students (and alumni) realise that in the world of work, it's people that matter most. We work with students, alumni and staff from many of the UK's top business schools and universities, as well as institutions in Finland, France, Eire and Denmark.
We consistently receive excellent feedback. Usually, over 95% of workshop participants think attending was time well-spent, and would recommend the workshop to colleagues. You can't really ask for more than that!
Recognising that a very definite 'skills gap' exists, many forward thinking schools now offer our training to help improve their students' job prospects and, by extension, the school's ranking.
Content

82%

82%

Presentation

88%

88%

Usefulness

83%

83%

Enjoyment

84%

84%

Interactivity

83%

83%
I thoroughly enjoyed the session on networking. It was very different to other sessions I have seen and I loved hearing about some of the research behind it.
Ruth Leach
A great workshop.
Maj. Gen. Peter Fox
Judith presents an excellent framework not only for understanding the inherent strength of one's existing network, but also the tools to make it more powerful.
George Ajjan
READ OUR BOOK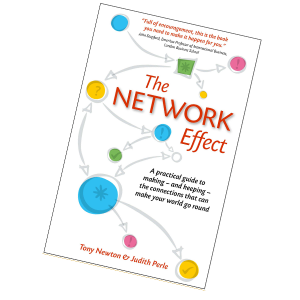 A guide to making – and keeping – the connections that make your, our and everyone else's world go round.
The book walks you through everything you need to know about connecting with other people.
Judith and Tony's goal in the book is to get away from the manipulative 'working a room' concept of networking. Instead, they use the results of research into human interactions coupled with real case studies to justify the hints, tips and suggestions they propose.